click for details
Fine Antique French Inkwell or Standish in Ormolu; having a hinged lid and circular stepped body with applied cast floral decoration, and raised on three toupie feet. Circa 1850.
Diameter; 4.25" Height: 3.25" SAFA/9533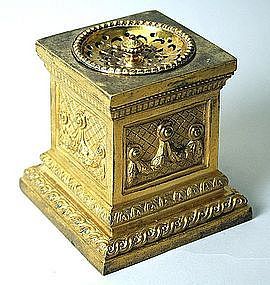 click for details
Fine antique French pedestal form sander in ormolu with removable reservoir for the sand used to dry the ink when writing with a quill pen. Mid-19th century.
Height: 4"
Width: 3.75: