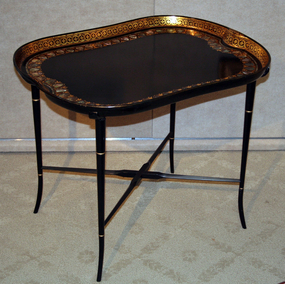 click for details
Fine Late Regency Papier-Mâché Tray having a shaped gallery with gilt stencil decoration and inlaid with mother of pearl. English, circa 1835, mounted on a later bamboo form ebonized stand.
Height: 23.25 " Length: 29.5" Width: 21.5"

click for details
Fine Antique English Canterbury in Walnut, having four pierced partitions with "C" scroll carved decoration above a single drawer and raised on turned ball form feet with brass casters. Circa 1850-1870
Originally designed for sheet music, these are now used primarily as magazine racks. To see other examples, type "canterbury" into the search box.
Height: 20"
Width: 20.5"
Depth: 14.5"