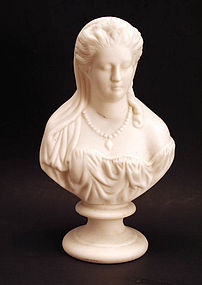 click for details
Parian bust of Juliet, impressed "J&TB" for James and Thomas Bevington, potters in Hanley, England. They used this mark from 1863-1876.
Height: 6.5"

click for details
Edward Henry Berge (American, 1908-1998)
A Painted Plaster Relief Plaque of Three Iguanas
Signed,lower middle
Size: 23" x 23.5" x 4.5" deep
Born and raised near Clifton Park in Northeast Baltimore, Mr. Berge was the son of the acclaimed Baltimore sculptor Edward Berge, who was best known for his studies of children. A graduate of Baltimore Polytechnic Institute, Mr...