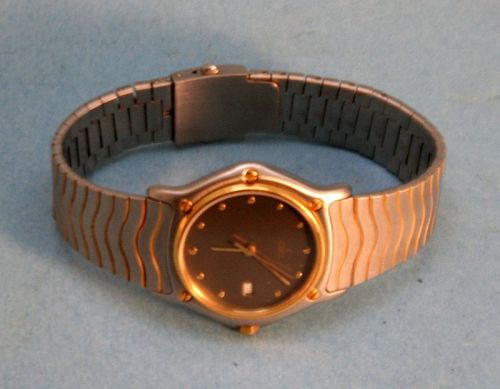 click for details
Ebel Classic Wave Stainless Steel & Gold Mens Watch
Dial: Slate Grey Dial with Gold Screw Hour Markers
Movement: Quartz
Case Material: Stainless Steel & Gold
Bezel: Gold Accent Bezel, Case Screws And Winding Crown
Condition: Excellent (Mint Condition)

click for details
Brass Compound Microscope by Camille Sebastien Nachet (1799 - 1881)*, with U-shaped base, single tube rack focus, rectangular stage, planar mirror, and mahogany carrying case. In 1851 Nachet was awarded a gold medal at the Great Exhibition for the quality of the workmanship of his instruments.
* Nachet moved his business to 17, rue St. Severin, Paris in 1862 (see enlargement #5).
approximate height of instrument: 14.5 in.