click for details
Charming Victorian Bar Dispenser consisting of three metal bound miniature barrels with spigots and pails on a metal mounted stand Barrel are marked: Whiskey,Brandy Gin.
English,circa 1870-80
Each barrel 7.5"long, overall: 14" x 7" x 13"tall
(n.b. the dispensers are working, but are not very practical. Buy for decoration or amusement) 1450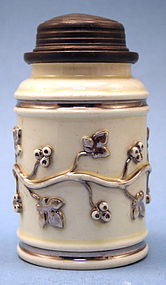 click for details
A Rare Stoneware Wine Flask (called a "Schraubflasche" in German), cylindrical with a pewter screw top, sloped shoulder and white glazed body with applied silvered decoration of a scrolling branch with leaves and berries. Silvered underglazed mark on base.
Probably German, 18th Century (chip to base)
Height: 5.25"
Diameter: 3"