click for details
James Francis O'Brien (American, 1917-1996)
Excavation Site, 16th & I Streets
Oil on canvas, located, inscribed and dated: "1958" on the reverse.
Painting size: 24" x 18"
Frame size: 29" x 23"
** Please Note - This painting came directly from the Estate of Mr. O'Brien. For other examples, type "O'Brien" into the search box...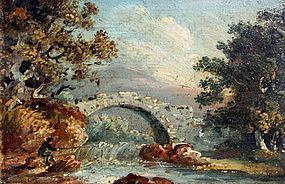 click for details
Three 18th-century English Landscapes
Oils on paper, unsigned.
Painting size: 3" x 4.5" (Approximately)
Frame size: 7" x 8.5" (Approximately)